ECOVADIS Gold Medal for Schill+Seialcher "Struktol" GmbH
Schill+Seilacher "Struktol" GmbH is proud
about having received EcoVadis Gold Medal as a confirmation for successfully implementing, optimizing and following sustainablility requirements in their processes.
GRTE -5th Global Rubber Latex & Tyre Expo Bangkok, Thailand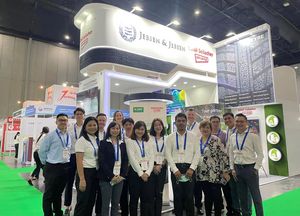 It was great to
meet old and new customers at conference and expo booth which we shared with our local partner.
In case that you missed this event and the presentations held about "Latex Additives for Improved Processing Properties and Environmental Concerns" and "New Functionalized Products: STRUKTOL Performance Liquids for Better Processability and Performance Properties of Rubber" please just get in contact with us for further information.
Tire Technolgy Expo 2023 - March 21,22,23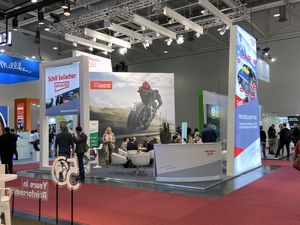 Thanks for your visit
at our booth and for your interest in our products and news.We ennjoyed personal disicussion and exchange of news with you very much!
JEC 2023 in Paris - April 25, 26, 27

We are looking forward
to meet you at JEC 2023 in Paris for personal discussions again.
Tire Technology Expo 2023 in Hanover - March 21, 22, 23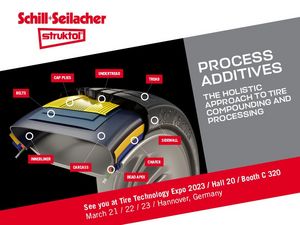 We are looking forward to meet you again...
Schill+Seilacher highlights the holistic approach that Struktol rubber additives bring to modern tire compounding. Making use of tailored chemical functionalities, additives offering benefits extending far beyond isolated processability improvement are now introduced. Schill+Seilacher's technical and development team is available at Tire Technology Expo 2023 to discuss the possibilities in detail.
ECS - European Coatings Show 2023 in Nuremberg - March 28, 29,30, 2023

Visit our booth no. 438 in hall 3C
at ECS in Nuremberg from March 28, 29, 30, 2023. Wir are looking forward to meet you again!
International Rubber Conference (IRC) 2022 (IRI)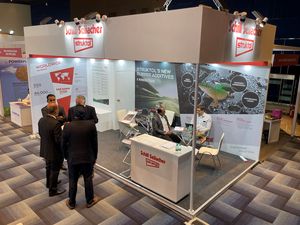 It was a great pleasure for us to meet our customers again on the occasion of the IRC India 2022,
in Bengalura Convention Center during Conference and Expo from November 24, to 26, 2022.
DKT IRC in June 2022 was a success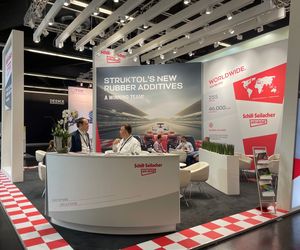 We truly enjoyed meeting you
and thank you for the great conversations.
Hopefully we meet each other soon again.
DKT IRC 2021 Nuremberg / June 27, 28, 29, 30, 2022

Visit our booth 9-313
at DKT IRC in Nuremberg on June 27, 28, 29, 30!
Handout Struktol Mandrel Release Agents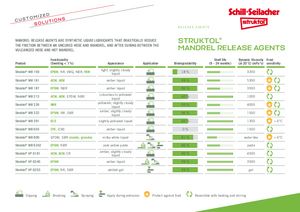 To learn more about our new products visit us at our booth 9/313 at DKT IRC 2022 in Nuremberg.
MANDREL RELEASE AGENTS ARE SYNTHETIC LIQUID LUBRICANTS THAT DRASTICALLY REDUCE
THE FRICTION BETWEEN AN UNCURED HOSE AND MANDREL, AND AFTER CURING BETWEEN THE
VULCANIZED HOSE AND HOT MANDREL...
Tire Technology Expo 2022 - Successful new start!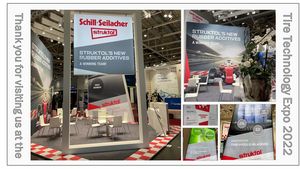 From May 18, to 20, 2022, Tire Technology Expo opened doors again!
We very much appreciated meeting customers and partners again personally and are looking forward to further good discussion and exchange in the near future..
Verleihung der Ehrensenatorenwürde für Dr. Rüdiger Ackermann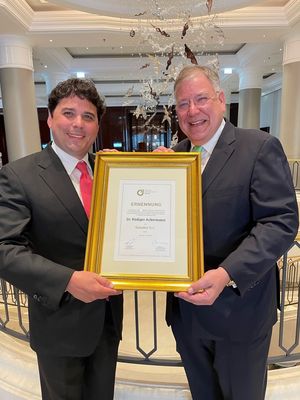 Der Bundeswirtschaftssenat des BVMW verlieh
letzte Woche Herrn Dr. Rüdiger Ackermann für sein Bemühen, den Mittelstand aktiv gegenüber der Politik zu vertreten, die Ehrensenatorenwürde. In seiner Laudatio hob Herr Christoph Ahlhaus, der frühere Erste Bürgermeister der Freien und Hansestadt Hamburg, der sehr detail- und kenntnisreich über unser Unternehmen referierte, nicht zuletzt das soziale Engagement von Schill+Seilacher während der Corona-Krise hervor.
Besonders freuen wir uns auch über die Aussage von Herrn Ahlhaus, dass er Schill+Seilacher "Struktol" GmbH als überaus bemerkenswertes Unternehmen des deutschen Mittelstandes lobte und uns als Vorbild für andere sieht!
MaNuK – Magnetisierbare Nutverschlusskeile konsequent weitergedacht
Die Business Unit "Reaktive Polymere und Flammschutzmittel" arbeitet mit der M&D Composites Technology GmbH im Entwicklungsprojekt MaNuK und weiteren Partnern zusammen. Ziel ist es eine neue Generation von magnetisierbaren Nutverschlusskeilen verfügbar zu machen. Das Entwicklungsprojekt wird vom Bundesministerium für Wirt-schaft und Klimaschutz (BMWK) über das Zentrale Innovationsprogramm Mittelstand (ZIM) gefördert. (Bildquelle: Dr.-Ing. C. Schmidt, PuK)
Nutverschlusskeile werden in elektrischen Maschinen mit offenen Nuten im Blechpaket eingesetzt, um die Wicklung zu fixieren und zu schützen. Die weiten Nutöffnungen im Blechpaket, welche den magnetisch wirksamen Luftspalt zwischen Stator und Rotor vergrößern, bewirken lokal eine unerwünschte Schwächung des Magnetfeldes. Dem wirken magnetische Nutverschlusskeile durch verbesserte Flussführung entgegen. Das Resultat ist vor allem die Reduzierung des benötigten Magnetisierungsstromes und folglich ein besserer Leistungsfaktor sowie eine Wirkungsgrad- und Laufruhesteigerung der elektrischen Maschine.
Die heute verfügbaren magnetischen Nutverschlusskeile (mNVK) weisen erhebliches Verbesserungspotenzial hinsichtlich der magnetischen Leistungsfähigkeit und ihrer mechanischen Eigenschaften auf – durch verfrühtes Versagen sind sie häufig Ursache von Anlagenschäden und -stillständen.
Der Spezialist für Leichtbaukomponenten M&D Composites Technology GmbH aus Ostfriesland, auf dessen Initiative dieses Entwicklungsprojekt angestoßen wurde, will neben der Verbesserung der technischen Eigenschaften der magnetischen Nutverschlusskeile (mNVK) über die Nutzung von kontinuierlichen Produktionsverfahren die Stückkosten signifikant senken und somit für die Elektromaschinenhersteller besonders attraktiv machen. "Auf Anwendungen im Bereich der elektrischen Maschinen oder generell im Bereich der elektrischen Isolation lag bisher nicht unbedingt unser Fokus" so Gregor Müller, Geschäftsführer der M&D Composites Technology GmbH, "hier zeigt sich, wie Kompetenz aus dem klassischen Leichtbau auch für Anwendungen im Elektromaschinenbereich nutzbar gemacht werden kann. Der Markt insgesamt hat eine sehr interessante Größe und ist für uns attraktiv genug, besondere Lösungen anzubieten und um in diesem Anwendungsbereich weiter Fuß zu fassen.
Das Projekt MaNuK ist ein Kooperationsprojekt der Partner Schill+Seilacher "Struktol" GmbH, M&D Composites Technology GmbH, FISCO GmbH, dem Institut für Antriebsysteme und Leistungselektronik (IAL) der Leibniz Universität Hannover und dem Institut für Polymerwerkstoffe und Kunststofftechnik (PuK) der TU Clausthal.
Mit dem Forschungsprojekt werden im Wesentlichen folgende Ziele verfolgt:
Zur Optimierung der magnetischen Eigenschaften steht die Herstellung einer gezielten Flussführung im Fokus, die Erprobung von Magnetisierungsbedarf/Leistungsfaktor und Feststellung des Wirkungsgrades. Nicht nur der zum Einsatz kommende kontinuierliche Produktionsprozess benötigt darauf abgestimmte Harze, auch werden neuartige ferritische Anteile notwendig sein, um die geplante Verarbeitung möglich zu machen. Dazu wird man innerhalb des Konsortiums auf die langjährige Erfahrung der Fa. Schill+Seillacher "Struktol" zurückgreifen.
Ein weiteres Entwicklungsziel ist die Verbesserung der Festigkeiten, ein besonderes Augenmerk liegt in diesem Zusammenhang auf der Betrachtung der Dauerfestigkeiten und der Lebensdauer sowie einer Erhöhung der Ausfallsicherheit. Diese Aufgabenstellung wird vom Institut für Polymerwerkstoffe und Kunststofftechnik (PuK) der TU Clausthal intensiv bearbeitet werden.
Das Entwicklungsziel eines kontinuierlichen und deutlich kosten- und ressourceneffizienteren Herstellungsprozesses ist wesentlich für den späteren wirtschaftlichen Erfolg des neuen mNVK.
Mit der Fa. FISCO GmbH konnte für das Forschungsprojekt MaNuK ein Entwicklungspartner gewonnen werden, der in Zusammenhang mit anderen Produkten und Anwendungen bereits erfolgreich nachgewiesen hat, kontinuierliche Produktionslösungen für hochgefüllte Harze mit stark abrasiv wirkenden Feststoffen zu realisieren.
Das Konsortium des Forschungsprojektes MaNuK – "Magnetische Nutverschlusskeile im kontinuierlichen Produktionsverfahren" startete am 24. Februar im Rahmen eines Kick-Offs offiziell seine Arbeit. Der Abschluss des Projektes ist mit Ende 2023 vorgesehen.
Interessierte Produzenten und Hersteller von Elektromaschinen können sich gerne und jederzeit bei dem Projektverantwortlichen Axel Rademann, M&D Composites Technology GmbH in Friedeburg melden, um sich zu grundlegenden technischen Anforderungen für mNVK auszutauschen.
Früh übt sich – Struktol unterstützt Studentenprojekt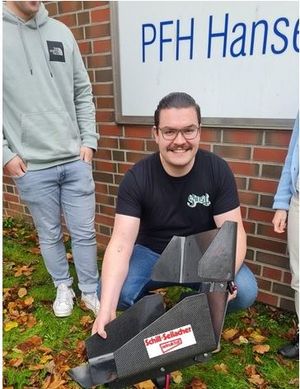 Als langjähriger, innovativer Partner der PFH in Stade wurde durch die Business Unit Reaktive Polymere und Flammschutzmittel ein Studierendenprojekt
zur Entwicklung eines Handbikes, ein Sitzrad für Kinder und Erwachsene mit Behinderung, unterstützt. Dieses Forschungsprojekt "E-Handbikes" wurde unter der Leitung von Professor Marc Siebert am PFH Hansecampus Stade durchgeführt und ist Teil des Bachelorstudiums "Verbundwerkstoffe/Composites". Dieses Projekt gehört zum zweijährig angelegten Programm "Emob-REHA" (Elektromobilität in der Rehabilitationstechnik) und wird aus Mitteln des Europäischen Fonds für regionale Entwicklung gefördert.
Die jungen Entwickler waren vom bereitgestellten Epoxidharz-System POLYVERTEC® 3452/H2B begeistert, im Gegensatz zu bisher verwendeten Konkurrenzprodukten, sagten die Studierenden: "Wir haben allgemein bessere Ergebnisse im Laminat erhalten (kaum Poren, gute Oberfläche) und konnten das Bauteil nach der Aushärtung auch besser mechanisch bearbeiten."
Wir freuen uns mit den Studenten über die sehr guten Ergebnisse des Projektes und gratulieren zur verdienten Benotung von 1,0.
Best Job Instructors in Germany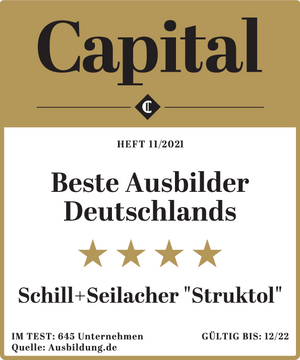 Schill+Seilacher "Struktol" GmbH is glad
having received the award "Beste Ausbilder Deutschlands" given by the business magazine "Capital".
We take this award as a confirmation, that our job training for our personnel is recognized to be very effective even with difficult conditions like in the past two years and meets highest demands so that young professionals get best instruction to be prepared for requirements of their future jobs.
Handout Struktol® TACKIFIERS AND ANTIMISTING ADDITIVES FOR LUBRICANTS
THE Struktol® TACKIFIERS AND
ANTIMISTING ADDITIVES FOR LUBRICANTS ARE BASED ON HIGH MOLECULAR WEIGHT POLYISOBUTYLENE (PIB) CHAINS DISSOLVED IN DIFFERENT BASE OILS. THEY ALL CONFER TACK AND STRINGINESS TO LUBRICANTS AND ARE RECOMMENDED TO PROVIDE ADHERENCE IN SLIDEWAY OILS AND CHAIN LUBRICANTS, STRINGINESS IN GREASES AND AEROSOL MIST REDUCTION RESISTANCE IN HIGH SPEED AND PNEUMATIC SYSTEM LUBRICANTS.
90th Birthday of Ingeborg Gross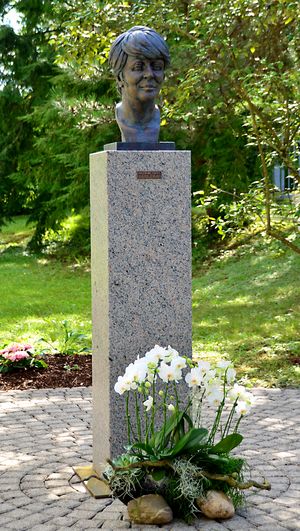 Ingeborg Gross would have turned 90 on December 12, 2021.
She lost the fight against her serious illness at the age of 87, but thanks to her impressive life's work and her far-sighted succession planning, she secured an afterlife for future generations, which the Ingeborg Gross Foundation will preserve and implement. Ms. Ingeborg Gross was a strong entrepreneur.

She had no commercial training. But a feeling for business - and for people.

She has entrusted the foundation named after her and her long-term managing director with the preservation and implementation of her will. This laid the foundation stone for a secure future of the Schill + Seilacher Group, for the benefit of those who work for the company and for the common good. Just as she wanted it to be!
Handout Struktol LV 418 vs. LV 485
LATEX THICKENING AGENTS
LATEX THICKENING AGENTS ARE USED TO INCREASE AND ADJUST THE VISCOSITY OF LATEX MIXTURES FOR A VARIETY OF APPLICATIONS. THEY ARE, FOR EXAMPLE, ADDED TO LATEX COMPOUNDS USED FOR THIN FILM OR SHEET PRODUCTION TO INCREASE FILM THICKNESS AND PREVENT STRIKETHROUGH INTO FABRIC LAYERS.
Handout Struktol LA 455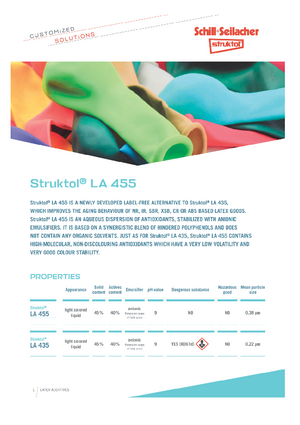 Struktol® LA 455 IS A NEWLY DEVELOPED LABEL-FREE ALTERNATIVE TO Struktol® LA 435,
WHICH IMPROVES THE AGING BEHAVIOUR OF NR, IR, SBR, XSB, CR OR ABS BASED LATEX GOODS.Struktol® LA 455 IS AN AQUEOUS DISPERSION OF ANTIOXIDANTS, STABILIZED WITH ANIONIC EMULSIFIERS. IT IS BASED ON A SYNERGISTIC BLEND OF HINDERED POLYPHENOLS AND DOES NOT CONTAIN ANY ORGANIC SOLVENTS. JUST AS FOR Struktol® LA 435, Struktol® LA 455 CONTAINS
HIGH-MOLECULAR, NON-DISCOLOURING ANTIOXIDANTS WHICH HAVE A VERY LOW VOLATILITY AND VERY GOOD COLOUR STABILITY.
Struktol Permalease Handout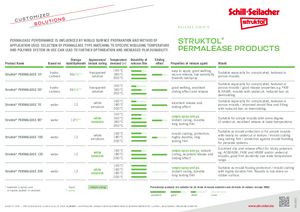 PERMALEASE PERFORMANCE IS INFLUENCED BY MOULD SURFACE PREPARATION AND METHOD OF
APPLICATION ...
Promotionsstipendium der Ingeborg-Groß-Stiftung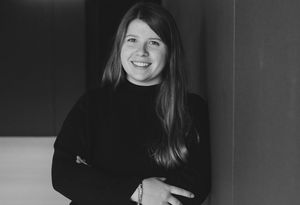 Lea Zimmermann schreibt ihre Dissertation im Rahmen eines Promotionsstipendiums der Ingeborg-Groß-Stiftung:
"Die Funktionalisierung von Textilien und damit die Möglichkeit der Wandlung eines Stoffes oder einer Faser in ein neues innovatives Produkt hat mich schon immer fasziniert und mich bereits durch die gesamte Studienlaufbahn begleitet. Während meines Bachelor Studiums an der Hochschule Niederrhein habe ich mich intensiv mit dem Bereich der Cosmetotextiles beschäftigt. Hier habe ich die unterschiedlichen Funktionalisierungsverfahren zur Anbindung von Mikrokapseln an und in die Faser untersucht. An der Technischen Universität Dresden habe ich vor kurzem erfolgreich meine Masterarbeit im Bereich der Biofunktionalisierung von Seide für die Implantat-Medizin mit dem langfristigen Ziel Zellen, Wachstumsfaktoren oder Makromoleküle und damit möglicherweise Medikamente an das Material zu immobilisieren, im Fachbereich Maschinenbau verteidigt. Intensiv habe ich mich mit der chemischen Funktionalisierung von Seidenoberflächen beschäftigt und dabei Seidenfasern erfolgreich mittels der Carbodiimidchemie funktionalisieren können. Die während der Studienzeit gesammelten Kenntnisse in diesem Gebiet werden für die angestrebte Promotion an den Deutschen Instituten für Textil -und Faserforschung (DITF) sicher sehr hilfreich sein."
Das Ziel der Dissertation im Rahmen des Promotionsstipendiums der Ingeborg-Groß-Stiftung ist die Analyse der Realisierbarkeit von selbstkühlenden Effekten auf textilen Oberflächen und die Untersuchung der Wechselwirkung thermodynamischer Parameter hinsichtlich der passiven Strahlungskühlung. Dabei werden besondere Beschichtungen entwickelt, die in der Lage sind die Oberflächentemperatur im Vergleich zur umgebenden Lufttemperatur zu senken. Die zu ermittelnden Zusammenhänge dienen zur Einsparung von Energie für Klimaanlagen mit Gebäudehüllen aus textilen Werkstoffen aber auch für die Anregung zu Werkstoffinnovationen für Freizeitbekleidung oder für Sport- und Schutzbekleidung. Im Hinblick auf steigende Temperaturen bedingt durch den Klimawandel und die damit einhergehenden Problematiken bieten die zu untersuchenden Ergebnisse einen Lösungsansatz für ein nachhaltiges Kühlsystem ohne eine externe Energiezufuhr zu benötigen.
Flame retardancy for composites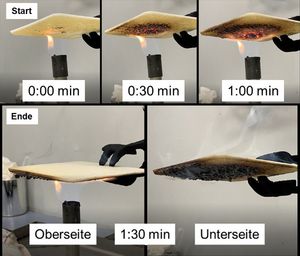 Ultra-thin and effective fire protection gelcoat for fiber composite components
The business division "Reactive Polymers & Flame Retardants" of Schill+Seilacher "Struktol" GmbH, Hamburg, develops flame-retardant epoxy resin systems based on halogen-free, phosphorus-based flame retardants (FSM). A new, innovative solution has now been found to offer low-viscosity resin systems for easy processing in automated processes on the one hand, while at the same time meeting the stringent fire protection requirements on the other. The special feature of the surface coating lies in the specially coordinated combination of components, which allows the use of a resin matrix without flame retardant for processing in pultrusion and filament winding processes as well as in injection or hand lay-up processes, while meeting fire protection standards such as UL 94.
Fire protection for E-mobility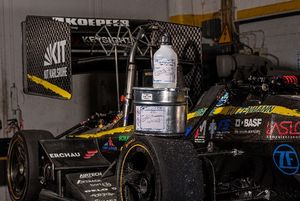 Low-viscosity, flame-retardant epoxy resin system for battery box
Schill+Seilacher "Struktol" GmbH, Hamburg, develops flame-retardant epoxy resin systems based on halogen-free, phosphorus-based flame retardants (FSM). The special characteristics of these systems is based on the particularly fine-tuned of the components, which allows processing in pultrusion and filament winding as well as in injection or manual lamination processes. The systems can meet fire protection standards such as UL 94 or EN45455.
The Polyphlox® 3722 System has already been successfully tested for a battery housing in motor racing for the KIT19e by the Formula Student Team KA.RACE.ING. Both the required UL V-0 standard as well as high mechanical property level were achieved. The processing into a CFRP battery housing was also successful.

The advantage of the recently developed flame retardant epoxy systems is their compatibility with different hardeners, so that these systems can be flexibly adapted for different applications and processes. Adaptation for SMC moulding compounds is just as feasible as for prepreg systems.
Re-certification according to DIN EN ISO 9001:2015 and DIN EN ISO 14001:2015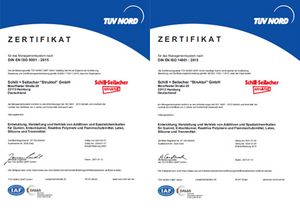 We are pleased to inform you that we achieved the re-certification
according to DIN EN ISO 9001 and DIN EN ISO 14001 without any deviation at the beginning of November 2020.
When additives become functional, new possibilities emerge!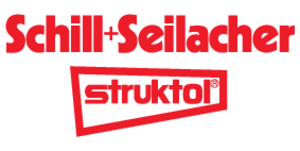 Advancements in tire technology are motivated by continually evolving market expectations. The need to contribute to vehicle efficiency, either by reduced fuel consumption in combustion engine vehicles or the switch to e-vehicle technologies with associated changes in tire performance criteria are often cited as key challenges facing tire developers.
Polymer producers have responded to the changing tire industry expectations, their innovations take into account a more reactive functionality within polymer architecture, and this is closely matched by increasingly greater degrees of filler surface chemistry. As a result, tire compound properties may now be tailored to meet quite specific tire performance targets.
Tire processing methods also underwent progressive stages of modernisation in recent years, for example, more sophisticated reactive mixing technology together with high-speed extrusion systems allowing for direct extrusion onto the building drum become established as cost effective production routes for many of the major producers.
These advancements however bring about their own conflicts, processing pathways involving multiple stages, often with the ability to rework compound or adjust rheological properties by additional time or energy input during the process are no longer viable options for most tire producers. It has thus become necessary to achieve processability through an increasingly narrow operating window.
The use of process additive chemicals in an attempt to overcome the processing limitations observed gives rise to further conflicts; Lubricant additives might improve compound surface appearance, however, green strength will probably further reduce due to the unwanted softening effect. The same is true for release additives where lower tack unfortunately remains at a higher value than the also lowered tensile strength of the compound.
The development team at Schill + Seilacher has recognised the need to decouple conflicting performance characteristics found within conventional process additive chemistries. As a result, innovation within our Struktol® range offers tire compounders opportunities to achieve processability without compromise.
An example of significant improvement in extrusion performance when using Struktol® HT 300 in a silica filled tread compound. This innovative Struktol additive acts to decouple the conflicting influences of green strength and viscosity. As a result, high performance compounds gain significant benefit.
I-Chieh (Jens) Chen receives Ingeborg Gross Graduation Studentship at Hamburg University, Faculty of Chemistry
Already as grammar school pupil Mr Chen discovered his affinity to science and technology and started afterwards his chemistry studies at the faculty of chemistry at Hamburg University, which he recently terminated with his master's degree. His master's thesis applies to aspects of sustainable polymer chemistry in context with redox initialised radical polymerisation. He worked out definite processes for production of high polymers with interaction of theoretical, synthetic and technological chemical approaches. Even his bachelor's thesis had its focus on macromolecular chemistry. These experiences will surely be of use for his graduation. The aim of this research project is the treatment of zinc catalysed sulphur of allylic hydro carbon bondings in polyolefines. The oxidation of sulphur is a well-known process and even assumes a role for vulcanisation, however, structure reactivity relations on the impact of catalysts is lacking. The aim is to research a sustainable implementation on the basis of high active catalysts.
The studentship amounts to monthly 1,600 € for a period of two years and will be extended to three years after a positive expertise of an interim report. The studentship is promoted by Ingeborg-Gross-Stiftung and "Freundes- und Förderverein Chemie der Universität Hamburg e.V.".
New animated VESTENAMER video is LIVE
New animated VESTENAMER video is LIVE
Since many years already Schill+Seilacher "Struktol" GmbH is a partner of Evonik for sales of their product VESTENAMER 8012. Lately Evonik has provided a new video explaining how to benefit of the use of VESTENAMER 8012
New Struktol plasticizers for an improved service-life of tire curing bladders
Tire Curing Bladders are operated under severe service conditions during tire production.
High temperatures and high pressures are applied as well as there is repeated flexing due to a high number of inflating and deflating cycles during the vulcanization cycles of the uncured tire.
This publication presents studies for a significant extension of the service-life of tire curing bladders. The beneficial use of Struktol's new plasticizer types is demonstrated.

Presented at 198th Technichal Meeting of the Rubber Division , ACS, Knoxville, USA, in October 2020
Schill+Seilacher "Struktol" GmbH at RubberTech China 2020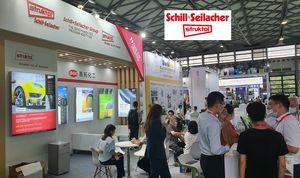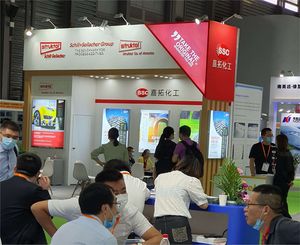 RubberTech China 2020, the leading international rubber technology exhibition, was held at the Pudong Exhibition Centre, Shanghai, China, from September 16 to 18. This was the 20th edition of the popular event, which usually draws a diverse crowd of attendees and participants from across the world. However, the COVID-19 pandemic and resulting travel restrictions had a significant impact on international attendance, as well as on the scale of RubberTech China 2020.
Representatives from Schill+Seilacher "Struktol" GmbH , the German specialty chemicals major, took part in the event and noted that the 2020 edition of one of the global rubber industry's most popular fairs was unlike any others that preceded it.
About 500 companies attended the exhibition, spread over two and half exhibition halls, about 60% of the size of the usual size of exhibition during other years of the RubberTech China event, when about 800 companies participated in the exhibition, spread over four exhibition halls. About 40% of participants who had earlier booked, cancelled their plans to attend due to COVID-19 concerns.
The team from SS China remarked that the number of visitors to the event seemed to not have decreased significantly, but strikingly, there were almost no foreigners at the show compared to other years.
SS China participated at RubberTech China for all three days, with a booth that was "a bit more economically designed" than during prior years and pointed out that while their overseas competitors were not present, several of their competitors from China participated in the exhibition.
Schill+Seilacher "Struktol" GmbH, Hamburg, was unable to send its experts from overseas to RubberTech China 2020, unlike during previous years, but Mr. Gino Liao and Mr. DH Lee from SS China, attended and ran the company's booth, along with their sales staff, promoting Struktol products. They said that during the third day of the exhibition, local employees working for international companies such as Hutchinson, ContiTech, Continental, Hankook, Pirelli, Michelin, PTE, Kenda, Trelleborg, Hexpol, Kraiburg, GITI, Linglong Tire, Aeolus Tire, Sailun Tire and Doublestar Kumho visited the SS China booth to share updates on market trends and production information.
Members of the company's team celebrated SS China's 15th anniversary at a special dinner at a restaurant in Waitan, by the invitation of Schill+Seilacher "Struktol" GmbH, Hamburg, where a celebratory letter from Mr. Guido Robbe was read and the celebration was shared online with Mr. Colin Clarke.
Schill+Seilacher Currently Produces Disinfectants
Since today the Böblingen chemical enterprise provides the district with disinfectants
Due to corona pandemic, the demand of disinfectants rapidly increases. Therefore, it was self-sufficient for the long-established chemical enterprise Schill+Seilacher GmbH, to comply with the request of a regional pharmacist to start production of disinfectants. Now the medium-sized company already produces disinfectants at two of its three factories in Germany. Besides the one in Böblingen also the Saxon Schill+Seilacher factory at Pirna started producing disinfectants.
"First we just started with small quantities for our company requirements and without automatic support." reported Mirco Arnd, factory manager of Schill+Seilacher GmbH, Böblingen. "Since today, however, we produce larger quantities at our mixing plant with official approval. Schill+Seilacher especially provides medical and social facilities at the Böblingen district.
They produce a disinfectant called "Desinfekt OFL" in accordance with the formulation of World Health Organization (WHO). Additionally, thanks to the glycerine portion Desinfekt OFL is also skin-friendly. "We provide our customers with disinfectants at a fair price", reported Arndt. "This is our small and regional contribution in fight against the pandemic. For production of Desinfekt OFL we postponed parts of our own production in order to accomplish capacities for it."
Schill + Seilacher preferably delivers Desinfekt OFL in 5 liter units to hospitals, special homes for elderly, fire departments, doctor's practices as well as social facilities. "We will start with about 5 tons of the disinfectant. As one of the required components for production is in short supply recently, we are only able to produce and provide a limited quantity. As soon as further supplies are guanranteed, we will increase production. We have already a lot of inquiries from all fields.", said Mirco Arndt.